September 21, 2011, Wednesday 08:45
142 Reviews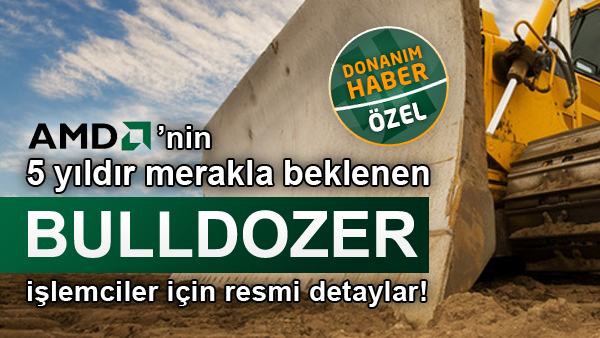 FX-based
processors, the new generation of AMD's Bulldozer Donanimhaber.com as
many details about the first time in the world have shared with you on
these pages before. The output of the FX series processors is no longer the days now prices for the Reference time and date of exit. According
to the information we receive in the official AMD, Bulldozer
architecture of the official launch of the FX processor family
on Oct. 12
at will. At
this point, you will recall many organ, published by the FX processor,
AMD processors in September, will come out of the road imagefilm
proposed, but many reports we have published several weeks before the
processors were meant to be launched in October, with the haberimizle
now we have to clarify in the final day of the output ,
October 12, 2011
!
So what price level will be AMD's next-generation processors? Obviously
so far and the general view was put forward as price information for
many of the fastest processor to $ 350 at a price slightly below the
submission was discussed. However, at this point, AMD will be even more aggressive. Currently
a small number of people reaching the secret for privacy reasons and
according to documents provided to us through the AMD FX processors, as
the price of a new generation of AMD, Intel's Core i5 family is
positioning itself against.
As a standard AMD's 3.6GHz Core 2.0 running and Turbo 4.2GHz technology up to automatically removable
8-core processor, the FX-8150 $ 245
with a 5GHz will go above the level of overclocking that will be talked
about, in terms of number of cores in the market will be the most
aggressive model processor, $ 250 will be offered at a price that's
below. 3.1GHz AMD's running on and automatically movable to 4GHz'e Turbo Core 2.0 with
8-core processor, the FX-8120 from the $ 205
level will be presented. 6-core 3.3GHz model and in the standard operating speed of 3.6GHz automatically to çıkartabilen
FX-6100 processor, the $ 175
level to market.
All information contained in official details in our news. As always, the first time you read these pages. AMD
FX processor family we are a large number of information and documents,
before the launch, the details in the coming days we will be sharing
with you, stay tuned:)
Cheaper than expected
AMD's FX
series processors are scheduled to launch in mid October and AMD seems keen take Intel on in the value department.
According
to Donanimhaber, the flagship FX-8150 will end up with a $245 price
tag, somewhat lower than expected. The same goes for the FX-8120 and
FX-6100, priced at $205 and $175. All things considered, the prices are
pretty low and all three of them sound like a pretty good deal.
This basically means AMD will position the FX-8150 against Intel's Core
i7 2600K, hence it is safe to assume that performance will be on par.
However, AMD has a tradition of offering somewhat better value for
money, so the FX-8150 could end up a bit quicker.


Seven parts planned
AMD
has seven bulldozer based CPUs in preparation, two
quad, four eight and one six cores and it looks like a launch in October
is the plan. The most likely date is October 12th, a slight delay from
mid September launch.
AMD FX 8150 a 125W CPU with 3.6GHz core
clock and 4.2GHz turbo, eight core is the leader of this pack, AMD FX
8120 is the runner up with its same 125W TDP 3.1GHz base clock and 4.0
GHz turbo clock. There will also be a 95W TDP AMD FX8120 with the same
specs, but this one can possibly launch a bit later due the production
schedule.
The third to launch is AMD FX 6100, a 95W six-core part with a base
clock of 3.3GHz and turbo clock of 3.9GHz. Two additional AMD FX series
4100 processors, both quad core will also join this Bulldozer crowd.
The faster of two is quad core FX 4170 with 125W TDP and 4.2 GHz core
clock and only 100MHz faster for the turbo. This will be the highest
clocked desktop CPU to date.
The runner up is a 95W Quad core
AMD FX 4100 with 3.6GHz core clock and 3.8GHz turbo. This list can get
some 95W refreshment in quad core and six core market segment but this
happens later in Q1 2012.
Volan replaces Scorpius platform, 2012
In a few
South Slavic languages, including Montenegrin,
Volan means steering wheel, but in AMD's world this is a codename for
2012 new 32nm high end platform.
AMD calls this market segment
Enthusiast desktop. The Volan platform comes in 2012, second part of it
and It includes Vishera CPUs that can pack up to eight new Pilediver CPU
cores. Pilediver should be an improved Bulldozer core, again developed
in 32nm.
The
good news for AM3+ lovers, Vishera CPUs will continue the AM3+
transition and they should fit in existing FX 990 boards. The chipset of
choice is a mixture of AMD 990FX and SB 950 southbridge with PCIe 2.0,
Crossfire X support, USB 2.0, 4x 1PCI 2.0 and SATA 6Gb/s. there is no
mention of official native USB 3.0 support for this chipset.
The
platform is paired with next generation AMD discrete graphics, most
likely Southern Islands 28nm generation that is expected by early 2012
if not in very late 2011. This is what AMD plans to pit fight against
Sandy Bridge E and probably by the time it comes there might be an Ivy
Bridge E high end part to compete against.